Yegor Krid's revelations about the corporate party made the popular singer Anna Sedokova remember how she, as a member of the group "VIA Gra", sang at private parties, where the audience was not always polite.
"For 20 years I performed on stage in different conditions and at different corporate parties. I remember going on stage and a man sitting under the stage, eating watermelon and spitting sunflower seeds on the floor," she recalls.
Sedokova also recalled the years of performing at private evenings as part of the trio "VIA Gra":
I remember going out, doing a concert and no one even slammed. Not in terms. I remember how the men shouted from the first tables:
Anna Sedokova noted that after such concerts I do not even want to breathe.
The singer recalls that she often wondered if she came to the profession for this. She continued to work despite the difficulties:
But I performed, sometimes after the distribution of all salaries to the team I had 100 thousand left, and they went to rent an apartment to the family or pay for school for the child. And I said to myself, "Anya, hold on. Just work better to earn more, so that your fees are even higher." But still the feeling of dirt did not leave me. "
Anna Sedokova is sure that Yegor coped with the situation with dignity. She thinks that now he (and not only he) will have a clarification on the list of songs in the rider.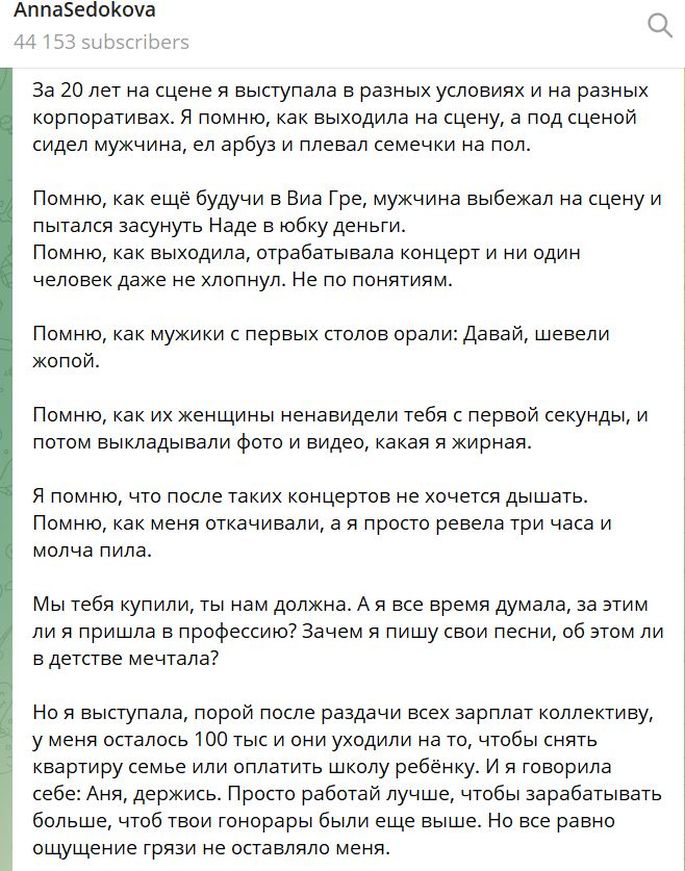 RUS TVNET в Instagram: News of Latvia and the world in photos and videos!