A message from the exclusive media, which stated that BLACKPINK plan to release the album in June, has become a hot topic for discussion in various online communities, both in Korea and abroad.
According to an insider, BLACKPINK will release a new album in June, which will be the band's first official release in 1 year and 6 months.
See also: 10 idols who almost debuted under other stage names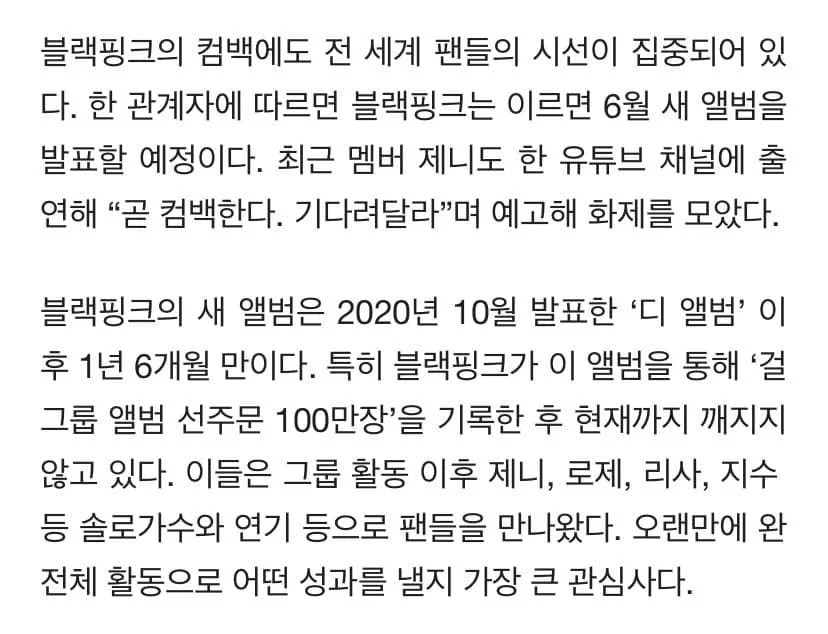 However, many netizens believe that such "insider reports" about artists YG Entertainment you need to be skeptical.
Many responded to the news with sarcasm. Here are some comments:
«Oh, they mean autumn».
«No, they mean winter».
«Could they please just release something».
«YG said that TREASURE will start the promotion in April, but April is almost over. They also said a comeback iKON and WINNER will take place in May. Will they be able to cope with all this and implement the BLACKPINK comeback in June? I do not think so».
«If they announced a month, then most likely they are sincerely trying to make it happen within a year… Haha… in fact it's not funny at all…»
«Finally BLACKPINK will return from the army !!!»
«Remember how Zico released the album at about the same time as BLACKPINK, and then he joined the army… Yes, he's back this spring… And BLACKPINK hasn't had a comeback in all that time».
«I bet one pathetic single will be released in June and the album will only be out in September-October».
«Single in June and album in August or later, lol…»
«Well, then, the probability that the comeback will take place in June is zero. There is a small, very small chance that it will take place in July, lol».
«Nobody believes in it. They will return in the fall».
You are waiting for the comeback BLACKPINK this summer?
darrymie © YesAsia.ru