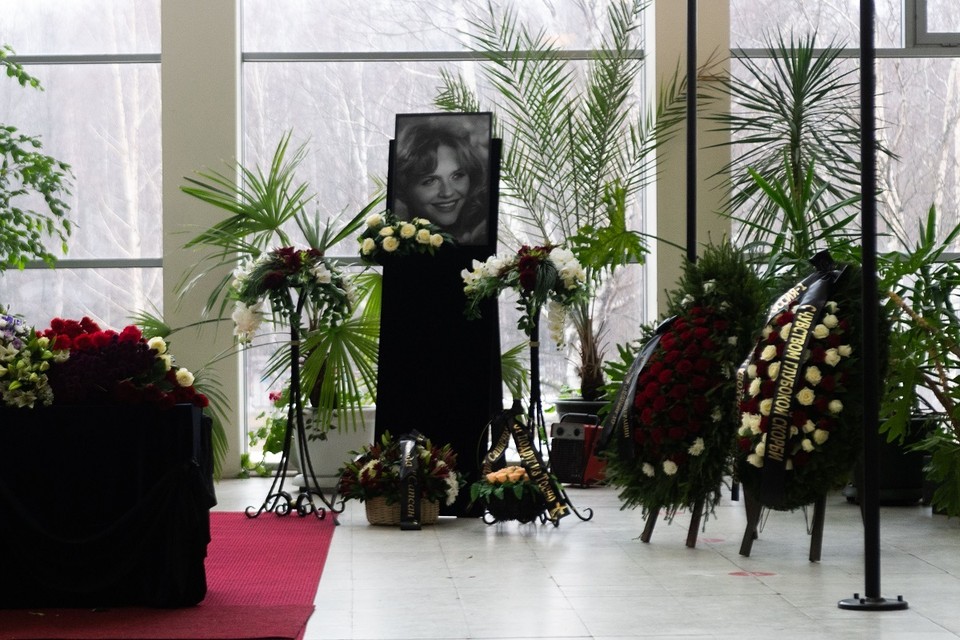 Hundreds of flowers were laid at the photo of the actress
Photo: Юлия ПЫХАЛОВА
Black and white photo of a white coffin, it shows a young girl with a bright smile. Such an actress Alexander Yakovlev was remembered by relatives and friends: cheerful, persistent, full of strength, hopes and aspirations. In St. Petersburg, they said goodbye to the star of "Wizards" and "Crew", who died on April 1, 2022 after a long battle with oncology.
"BURIAL ME NEXT TO GRANDMA"
We said goodbye to Alexandra Yakovleva on April 5 in the big hall of the crematorium on Shafirovsky Avenue. Accompanying the actress came relatives, friends, colleagues and even strangers who admired her work.

The funeral of the actress will be held in Kaliningrad on April 7
Photo: Юлия ПЫХАЛОВА
– She died near St. Petersburg, so the farewell ceremony takes place here. But she always considered her home to be Kaliningrad, where she was born, grew up, and later returned to work. Therefore, she will be buried there – next to her grandmother, as she requested, – said the director and close friend of Yakovleva Nikolai Lebedev.
The funeral will be held in Kaliningrad on April 7, but many came to say goodbye to Alexandra Yevgenyevna in St. Petersburg. Hundreds of flowers, which she loved so much, were laid to the white coffin.
– We recently agreed to meet with her, she said: "You just do not forget the flowers for me." She has always been a real girl. She even swore so femininely, and told me to be patient, because I'm a man. But she loved to put up with much more, but without a quarrel there will be no peace, – recalls Lebedev.
AT FIRST, THE VOICE CHANGED
At the farewell ceremony, almost no one cried at the farewell ceremony – Alexander Yakovlev was too positive a person, in the end everyone shared only good and funny stories that happened to her.

The director and her close friend Nikolai Lebedev spoke about the last days of the actress' life
Photo: Юлия ПЫХАЛОВА
– I still remember how she called herself "the most beautiful girl in the Soviet Union." I, of course, agreed. That's how it was, – sighs Nikolai. – She was the greatest actress, very mobile in terms of roles, and in life, too. Her actions were unpredictable. One day she called me in the afternoon and invited me to the beach. Just for no reason. I refused at first, but then I came, and there was champagne. She pampered me.
It seemed impossible to break a woman as strong as she was, but an unexpected and serious diagnosis crippled her.
"She's changed after this news." She became calmer. I noticed it in my voice. For a long time she did not want to tell anyone, share, but then decided. She said that she understood how sick people feel, how they need support and wanted to become such support for other people struggling with diseases, – says Nikolai Lebedev.
Even after the news of the diagnosis, the actress did not stop dreaming. Her plans were to make a feature film, despite the fact that she had long since finished her acting career.
– This film was her goal, and I really wanted her to play in the movies. I promised to come up with a role for her, but we didn't have time, – says Lebedev.

At the farewell ceremony were the children of Alexandra Yakovleva – Elizabeth and Kondratiy
Photo: Юлия ПЫХАЛОВА
At that time, doctors gave the actress only three months, but after hearing a terrible diagnosis, she lived for almost five more years.
"She didn't want to give up, and she didn't give up." But lately she hasn't had the strength at all. She didn't even get out of bed, she couldn't answer the phone. Thanks to her children Lisa and Kondratiya, lately the children have been holding her on their wings, without them she would have left earlier, – said Lebedev.
Elizabeth and Kondratiy stood side by side at the ceremony. While Lisa was crying, her brother was stroking her shoulder. Now the two of them will cope with the grief, but their mother will forever remain in the hearts of fans. They still refuse to talk about their mother with the press.
READ ALSO:
"No more pain": How actress Alexander Yakovlev died of cancer
Before her death, actress Alexander Yakovlev believed in her healing (more)
"I underwent major surgery!": Alexander Yakovlev, a cancer patient, got in touch for the first time in four months
The star of "Wizards" confessed to "KP" in severe depression and told what doctors feared (more)