On February 21 at 9:20 pm the Russia 1 channel will show a new directorial work by the People's Artist of Russia Elena Tsyplakova – TV series "When February is over". Viewers of the drama together with the main character Olga Ryabinina will go through her difficult path and help to put her life to pieces. In an exclusive interview with the platform "We are watching" actress Marina Konyashkina explained why she does not consider her heroine a victim, but a hero Sergey Peregudov – a scoundrel, and also told that she understood thanks to this project.
– Your new joint with the director will start on the air of the "Russia 1" channel Elena Tsyplakova work "When February is over". What are your thoughts and feelings about this?
– First of all, I really liked that our project "When February Ends" will be held in the last week of February. Our story is winter, in the sense that it's really that complicated, it's not entertainingly easy, it's not the one the filmwhere you relax and exhale. But this is a film where you can get answers to your questions, worry, think and let go of the already sad mood of the final winter month. And then plunge headlong into spring. That is why I invite you and us to finish this winter as soon as possible! Secondly, thank God that Elena Oktyabrevna agrees to shoot me in her projects. After all, in this case we are talking about an outstanding actress, a terrific person and a director, so for me it is acting luck, honor and great joy. I am grateful to Elena Oktyabrevna for her choice and trust.
– In the series "Unbroken" your character goes to jail for a false murder charge. In the new project, the heroine is attacked, after which her life is shattered. Are you choosing heroines who find themselves in difficult life circumstances, or are they you?
– I would like to say that I choose. In fact, no. I already have an image of a girl with a character who will go through all the thorns. Well, of course, from what comes to me, I try to choose what touches me, what interests me, and at this stage I pay attention to the team. When I see: the director – Tsyplakova, the cameraman – Dmitry Mass, in principle, I can not open the script, because I know that with them we will make a good product.
– On the way to happiness, your heroine Olga is facing many difficulties. Is fate testing her for strength, or is she a victim of circumstances?
"I wouldn't call my heroine a victim." Quite the opposite. In general, different events happen to people. The victim is your personal position in a given situation. That is, you can roll like cheese in butter, and feel like a victim, think that you owe everything and you have everything wrong, and you're so unhappy. In fact, it is not circumstances that make us victims or successful. And only the way we treat them, the way we overcome them, the way we accept them, characterizes us – the victim or the winner. My heroine is by no means a victim. She is a person who struggles, thinks and loves. A very strong man.
– Sergei Peregudov's hero leaves his wife in a difficult moment and moves to America, taking his son with him. The man who did that, scoundrel?
– I do not like to put labels. We have always been taught at the institute, when you play a scoundrel, look for moments where he is good. Any behavior is a circumstance. That's how life turned out for them. People met, fell in love with each other, started a family, had a child, and at some point in life there was a critical point when you had to make a choice. He makes such a choice – leaves the family, takes the child and sincerely believes that it is better for him. Then the viewer evaluates whether he likes it or not, how he treats this character. But to say that he is a scoundrel is very flat and one-sided, especially performed by such a wonderful artist as Sergei Peregudov. He just has a crazy charm, and that just makes his image complex and interesting.
– Your Olga goes to work in social services. Did you have the opportunity to get acquainted with the specifics of the work of those who help people in crisis?
– I am interested in psychology, and there was a time when I even entered the correspondence department of the Faculty of Psychology in St. Petersburg, but again the shooting spun, and all my efforts to turn left ended with the fact that I returned to my job. Therefore, this skill is professionally close to me, it's interesting, I took exams, I was preparing for it. In this case, I really like the methods that my heroine uses. They are, of course, tough. I'm ready for the fact that I'll scratch well from the auditorium, but, again, in your eyes and logs you will not notice, as they say. How often in life we ​​react to something negative, we can be rude just like that, but when we see something like this on the screen, we immediately start criticizing it. Many thanks to Elena Oktyabrevna, because when I gave in, she said: "No, this is a character, that's how it should be!".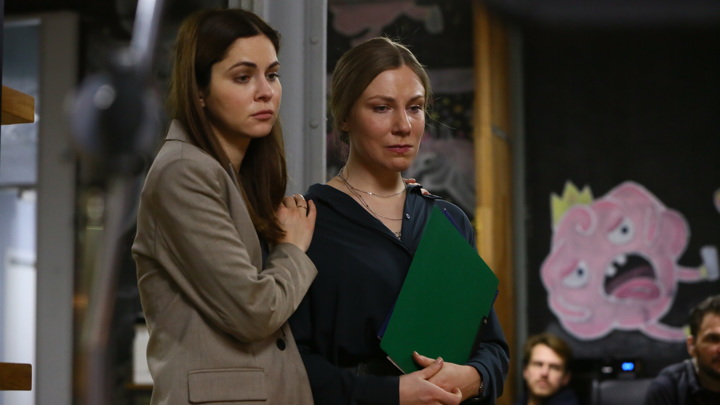 – What new did you learn for yourself in the process of work?
– Thanks to this project, I realized that pity is the other side of evil. Because when you feel sorry for a person in a difficult situation, you give him another crutch and acknowledge his weakness. And thus you paralyze him in general. Sometimes you need a good shake well, a kind of cold shower. And then a person becomes true, overcomes himself and, thank God, everything becomes good for him. That's what I came to through my heroine.
– Can those who have experienced a similar situation find a clue in the film on how to live?
– Everything rests on the situation. You can grieve and worry, but you can take responsibility for your life, take yourself in hand, understand that I was not created for this, I was not born for this, I have everything, all the data to live happily. Life is one! And if I want to live differently, I will. That's all. Self-love is not about beauty salons, it's just about acceptance and self-esteem. I hope that thanks to our film, both women and men in difficult situations will understand that you need to change your attitude in this situation and realize that everything is possible in this life.
– Actor is a public profession, and many listen to what artists say. Let's imagine that you have been invited to take part in a social project aimed at supporting women in difficult life situations. Would you take part? And what would you say?
– Do not think. I think you need to have the right to do that. Who am I to advise? It is clear that if a person comes to me and asks for my advice, I can express my point of view. But it is difficult to gather an audience and talk about how to live. I am not ready for such a responsibility. I study every day. I would like to talk through my films. Do you know what is the greatest gift for me? This is when I am told that I was sick, at work, but I come home, turn on the TV, and there is a movie with you, and it immediately gets better. Maybe that's my help.
– On February 26, Russia 1 channel will show another project with your participation – a melodrama "REGISTRY OFFICE".
– "When February Ends" is a very lively and dramatic film. And this story is easier and springier. Here we are done with the drama, we will deal with all the psychological problems, we will keep the course for spring. And let's go to the "REGISTRY OFFICE". And I will marry everyone.
– What is this story about?
– According to the plot, my heroine is the head of the department in the city administration. And one day, hiding from the wrath of the leadership, she leaves the city and temporarily becomes the head of the provincial registry office. But, as they say, there is nothing more permanent than temporary. The most amazing thing is that when we came to the shooting, we met a woman with whom a very similar story happened. Like my heroine, she moved to this small town from a large metropolis and began working in a dilapidated registry office, which no one needed. And made it the cultural center of the city. Of course, we were shocked that we were shooting about real life and a real beautiful woman. There are beautiful and nice women working there, and I hope they are happy.
– What other surprises are you preparing for the viewers of Russia 1 TV channel?
– Not so long ago, director Sergei Krasnov and I finished the dance project "Cha-cha-cha" for "Russia 1". I'm really looking forward to it, because I'm not a dancer at all, but thanks to my profession I learned to dance a little. The main thing is that viewers have time to miss and want to watch.
Tatiana Sanina, Vasily Kuznetsov // We look.ru