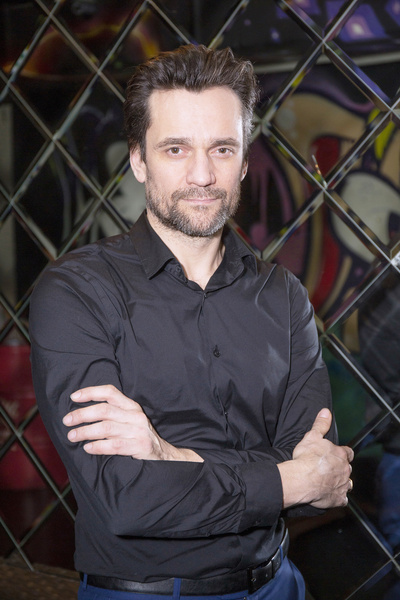 Dmitry Miller was born into a family of Russian Germans. Mom worked as an accountant, and dad – a carpenter, parents wanted a stable profession and son. During his school years, Dima was interested in football and science, after graduation he entered medical school, and then a specialized university, intending to become a pediatrician. Everything changed when Miller stopped by the theater to audition in Moscow.
The guy did an excellent job of reading the passage and eventually dropped out of the fourth year of medical work for the sake of "Chips". Were the parents disappointed that the heir did not become a doctor? And how did Dmitry's family life work in parallel with acting? On April 2, the movie star turns 50, and in honor of the anniversary we remember his biography.
The road to success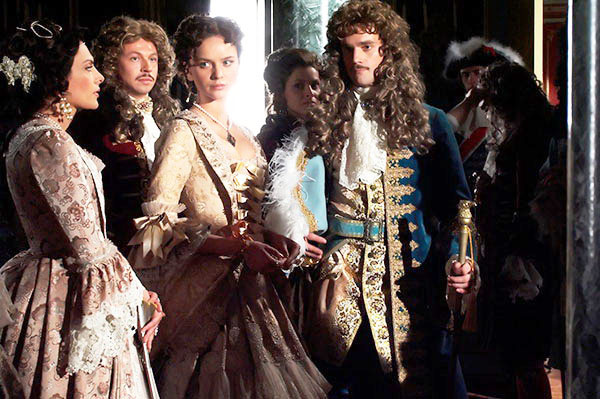 So, in 2001, Dmitry Miller graduated from the Shchepkin School and joined the troupe of the musical theater "On Basmannaya". A few years later, the artist changed the classical repertoire to an enterprise. As for the movie, Dmitry played the first role in the series Next, transforming into a security guard.
After a six-year hiatus, the actor got the job that brought him his first dose of fame – the role of Chevalier Charles de Brese in the film "Servant of Sovereigns." This was followed by filming in the series "Two Destinies" and "Montecristo", but in 2009, Dmitry remembered his former profession, turning into a doctor in the tragicomedy "Rainbows".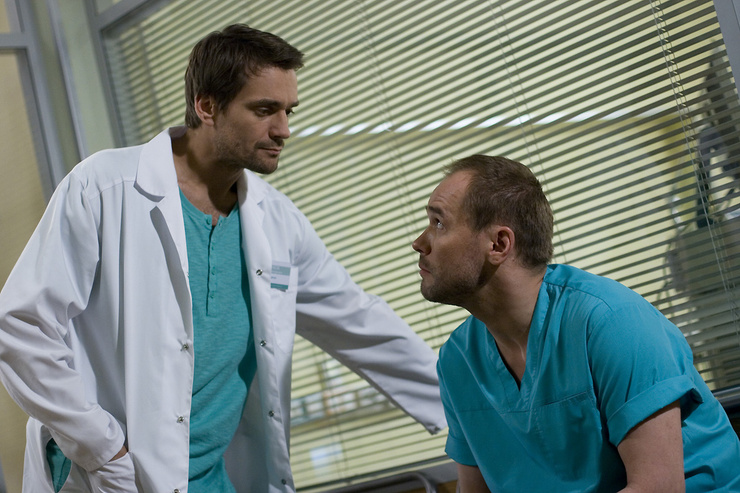 The directors did not stop exploiting the image of the doctor: in the series "Cherkizona. Disposable people "Miller played the doctor Sergei Vinogradov, and in" Sklifosovsky "- vascular surgeon Peter Pastukhov. "I can slap injections, bandage wounds, I can even make a funny headband -" Hippocrates' hat. Fortunately, such skills are useful at the level of injections. I continue my mother's business – she put them to all the neighbors. But those syringes were different from the current ones – with sharp needles … "- the actor shared with" StarHit ".
The sitcom with the participation of the artist "Traffic Light" turned out to be no less successful. The project about three men – a bachelor, single and long married – even received "TEFI". From that moment on, Dmitry was talked about as a versatile actor, because he could play an aristocrat, a doctor and a lawyer.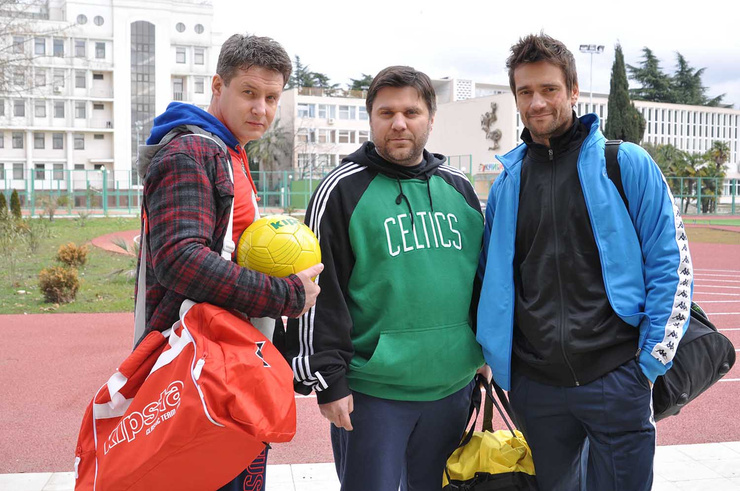 It is worth noting that at first the parents took the news of their son's departure from medical school without enthusiasm, but did not persuade him. When the roles fell one after another, the relatives were proud of the heir. "Dad died in October 2018. This is, of course, awful. But he managed to catch my triumph, he saw that all this was not in vain, "said Miller.
Miller was featured in "Ischeika", "Neutball", "World Champion", and special compliments from fans deserved for the image of investigator Gorshkov from "Koteika". "Gorshkov is a very interesting, positive character. This attracted me – he is selfless, open and human, with a great deal of irony and humor. We called each other "Kitten" the best project on television, despite the fact that there is a crime. But evil always remains punished, and so it should be, "- said the artist.
Love story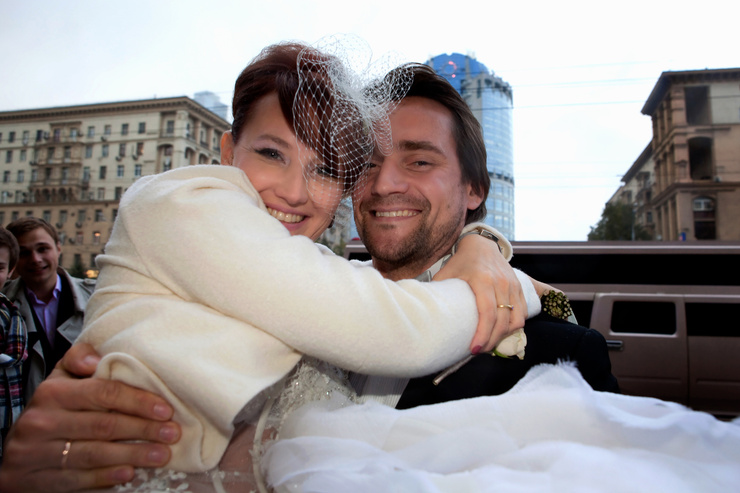 As the actor himself said, success in his career would be impossible without a wife who supported him, believed in talent and literally forced him to go to castings. The artist considers the meeting with Julia Dellos to be fateful, and one cannot disagree with him, because this love story resembles a film novel.
In general, Miller has always been a romantic: in junior high school he drank water for girls' attention, in which he washed brushes for drawing; at 16 he did not sleep all night, escorting girls he knew to the airport, and then fell asleep right on the train… Julia Dellos was first seen by Dmitry when he served in the army in Germany. Julia came on tour, and after the theater's performance went to the bar, where she met our hero.
don't miss itThe star of the series "Sklifosovsky" cried on the air because of his father's death
Miller fell in love with an attractive girl at first sight, but did not dare to come and meet. Seven years later, Dmitry met Julia again in Moscow, at a theater school: a student was studying the steppe, and the actress just needed dance lessons. At that moment, Dima had a failed stormy affair with an undergraduate, and Dellos managed to divorce and raise her son Daniel alone.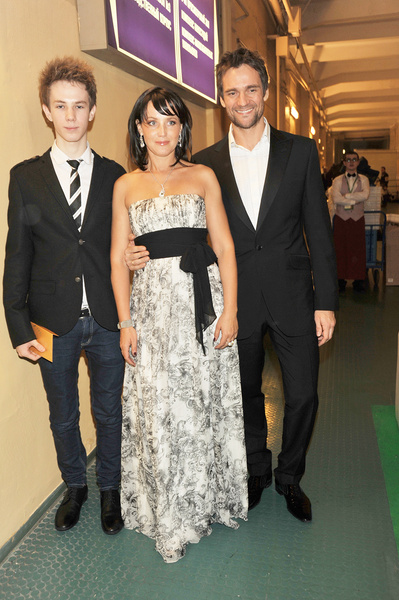 The student and the actress practiced steppe only once, after which their meetings became romantic. Miller did not immediately compare the facts and realized that in front of him was the same girl from a German bar. When it turned out that this was true, the lovers realized: fate itself brought them together.
don't miss itDmitry Miller: "What can you not do for the sake of women's attention"
However, the relationship was not ideal. The lovers had quarrels, and no one canceled the period of grinding. The issue of finances was especially acute, because for the first time the actress provided for her family. A six-year-old son asked his mother if she was going to marry a poor student. However, Dmitry took the child to rehearsals, told him stories, played and thus won the favor of Daniel.
Family difficulties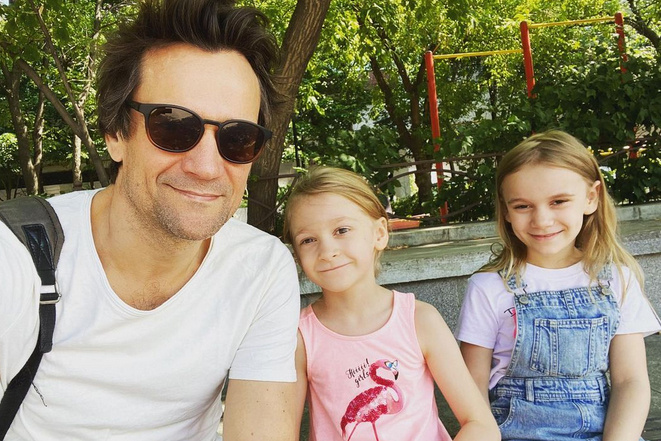 There was a period when lovers were disappointed in the relationship and decided to break up. According to Julia, they spent six months apart, but Dmitry assured – no more than a month, just days lasted a very long time. Finally, in 2009, the couple played a wedding. Why did the common children appear only five years later?
don't miss itTemporary separation from Menshov and abuse of plastic surgery: the main mistakes of Vera Alentova
"We were not ready for this, we were careless, everyone is ready at a certain time. Suddenly the girls would have been born earlier, and we would not have survived the test at that moment and parted? After all, the family becomes completely different. We didn't sign for years, everyone checked each other. We went for a long time, but finally got to our destination, "the actor concluded.
If lovers used to be critical of the wedding, then after the wedding they decided to make it a tradition to renew vows in different parts of the world, for example, in the Maldives. Now the twin daughters are also taking part in the ceremony: in 2014, the couple gave birth to girls Marianna-Darina and Alice-Victoria.
The lost brother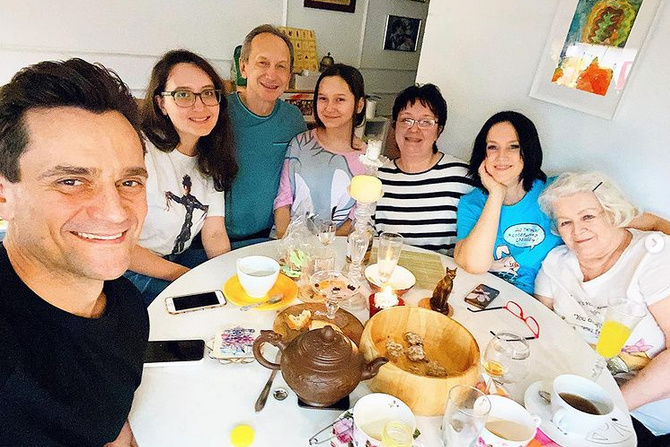 Dmitry Miller's mother was married twice, but until adulthood, the actor had no idea that in a past relationship she had an eldest son. "One evening I picked up the phone, and a pleasant male voice asked if I was, and then asked if I knew a man named Valery. He said that we are distant relatives, "Dmitry shared in the program" The Fate of Man "on the channel" Russia 1 ".
Miller arranged a meeting with Valery, and just in case he decided to call his mother and find out in whose line this musician relative may be. There was a long pause, and then the mother told her son her worst secret. "They broke up with their first husband, Valerochka lived with her mother. When she was at work or on a business trip, her sisters gave the child to her father, as in The Tale of King Saltan. Maybe some kind of envy. She was not allowed to raise him, I don't know what exactly happened there, she was in her 50s, "the actor explained.
don't miss itSklifosovsky star Dmitry Miller tells how he found his brother abducted in infancy
After this story, Dmitry went to meet his brother with joy, awe and excitement. He did not see the photo of Valery, but immediately realized that in front of him was a relative, noticing a tall, thin man in the cafe door. "I saw my mother in every gesture and facial expression. We seemed to know each other for a million years. Valera immediately presented me with "proof" – a photo with his mother, where he is a baby, "- said the artist.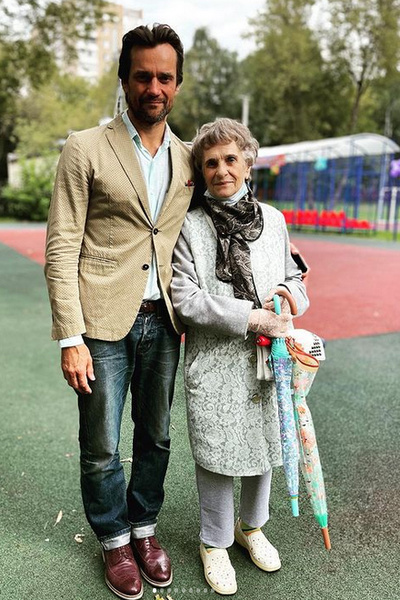 Valery Konstantinov, in turn, told how he went to meet with Dmitry. "Ice Age" was broadcast on TV, and a cousin told Valera that his brother was involved in the project. Konstantinov immediately got the actor's phone number, and soon saw his mother, whom he lost so many years ago. "When this abscess opened up, my mother changed, it became easier to communicate, I gladly went to visit Valerochka, we all got together. I think her brother forgave her, I hope, "Miller said.
don't miss itDon't believe the tears. Many years of conflict with his mother, addiction and cancer in the fate of Shura
Why Antonina Miller could not immediately return the child abducted by her ex-husband is an open question. Valery admitted that as a child he secretly visited his mother, but since his father forbade her to communicate, he threw into the ditch the tubes given by the woman from under the lipstick. Already when Antonina Kharitonovna was carrying Dmitry under her heart, she informed her second husband about her intention to bring her 16-year-old eldest son into the house. Artur Fedorovich was angry that his beloved had not revealed the secret before, and issued an ultimatum – either he or Valera… "My father and brother were strong people. I could not discuss it with my dad, he did not accept it at all, the character was – be healthy, "- said the actor.
Although the brothers did not grow up together, they managed to get really close. "It's like talking to friends: it's as if you're not starting a conversation, you're continuing. When I come to visit Valera, I immediately feel like my younger brother, "the artist summed up.
Photo: Legion-Media, personal archive, social networks, frame of the film "Servant of Sovereigns", footage of the series "Sklifosovsky", "Traffic Light"