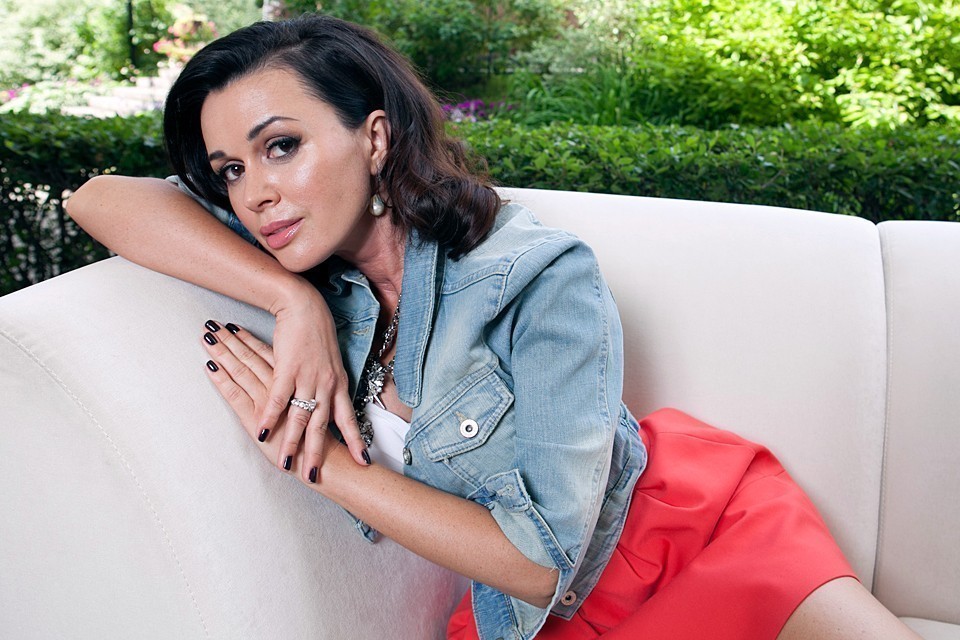 Anastasia Zavorotnyuk's tumor was discovered a few months after the birth of her daughter Mila.
Photo: GLOBAL LOOK PRESS
The star of the series "My beautiful nanny" Anastasia Zavorotnyuk has been battling cancer for several years. Doctors diagnosed her with a brain tumor in 2018. The actress' first husband, German businessman Olaf Schwarzkopf, is convinced that oncology could have been provoked by a miscarriage and regular beatings that Zavorotnyuk suffered from her second husband. He spoke about this in a program dedicated to the 51st anniversary of the artist. Anastasia celebrated her birthday on April 3.
Zavorotnyuk and Schwarzkopf met in 1993 at the Tabakerka on Yevgeny Mironov's birthday. Olaf, a former military pilot of German descent, was 12 years older than Nastya. He fell in love with her at first sight, but Anastasia was quite reserved with the German. But, nevertheless, she agreed to marry him. Their marriage lasted a year and collapsed after a miscarriage, which suffered Zavorotnyuk. Olaf is convinced that the accident with their child was not accidental.
– We went to Astrakhan. But before the trip she asked to take her somewhere. She was gone for half an hour. I understand that she was given or done something there, and then a miscarriage occurred, – said the businessman in the program "Based on real events" on NTV.

The actress' marriage to Olaf Schwarzkopf lasted a year. Photo: video frame.
After divorcing Schwarzkopf, Zavorotnyuk married for the second time – to businessman Dmitry Stryukov. The new chosen one turned out to be a real tyrant. He forbade Anastasia to work and constantly raised his hand to her. The consequences were deplorable: systematic beatings could also be the cause of the development of brain tumors in the artist, Schwarzkopf said. Complicated childbirth after a miscarriage could also provoke the disease. Anastasia gave birth to Stryukov's two children, but after the first birth, when their daughter Anna was born, she almost died. The actress miraculously survived in intensive care.

Anastasia with her second husband Dmitry Stryukov.
Photo: Natalia NECHAYEVA
Doctors discovered a tumor in Anastasia in 2018, after the birth of her second daughter. Medical experts believe that hormone therapy could provoke its development – Zavorotnyuk did IVF. Anastasia's relatives do not share information about her health. It is known that the actress is struggling with a malignant brain tumor – glioblastoma. The actress underwent surgery and chemotherapy. Doctors managed to perform a miracle: the disease has receded, and now the star of "My beautiful nanny" is in remission. According to sources close to the actress, Anastasia moves mostly in a wheelchair, it is still difficult for her to walk.

Olaf and Anastasia. Photo: video frame.
Recently, the actress' eldest daughter Anna talked about her relationship with her father. One of the subscribers asked her on social media: how did her father Dmitry Stryukov react when she decided to give up his name and take her mother. Until the age of 17, the girl was Stryukova. But in 2013 I decided to change my last name. Anastasia herself said that Anna's father was not against her decision.
– Anya herself submitted the documents to the registry office, – said Anastasia in an interview. – Friends, colleagues, professors at the university have long called her by my last name – Zavorotnyuk. Earlier I had to explain that the real thing is Ani – Stryukov. There were no grievances on his part, he understands that it will be easier.
But, it turned out that the ex-husband of the actress was not so kind to his daughter's decision. Anna admitted that she and her father had a big quarrel then.
– We quarreled very much with my father. But now the relationship is good, – wrote the daughter of the actress.