Starting in the 1980s with underground exhibitions, bright performances and public events, Sergei Maslov (1952 – 2002) became one of the most outrageous artists in Kazakhstan. The main theme of his work was esotericism and mysticism, he studied the beauty of the human body. He was called a "star nomad" and a secret admirer of the American singer Whitney Houston, to whom he dedicated one of his works.
In 1997, Sergei Maslov prepared a satirical installation "Instructions for Survival in the Former USSR." The action took place in one of the business centers of Almaty. The audience, who came to the opening of the exhibition, saw an opera singer performing Italian arias. In the finale of his performance, the artist threw a stack of papers into the crowd. Maslov's satirical notes on unusual ways of earning money were printed on the leaflets. The artist's idea was to unite people of completely different social statuses. Those who became rapidly rich and catastrophically impoverished in the difficult 90's.
Sergei Maslov, "The Beginning of the War", Canvas, oil, 81 x 120 cm
A quarter of a century later, this performance was repeated at Maslov's exhibition "Dreamcatcher", which opened in Almaty. The famous Kazakh group "Mezzo" delighted the guests with the performance of opera arias, after which the band members scattered leaflets with "Survival Instructions for Citizens of the Former USSR." Sergei Maslov's "Instructions" contains a number of tips on how to survive the economic difficulties and perestroika of the 1990s, including the sale of office furniture and the delivery of bottles.
"If you are embarrassed to steal, but still want to survive, you can start collecting empty bottles. Ordinary stores accept them for three tenge apiece, and factory outlets – five tenge. Your harvest will be more abundant if you get up early and go around the most greedy places: porches, parks, squares, "- says one of the councils.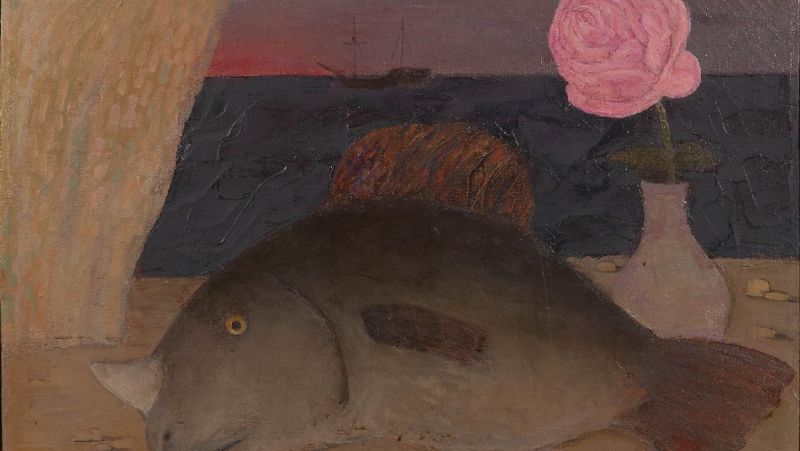 Sergey Maslov, _Rhino-Rhino_, 1997, Canvas, oil, 50 x 67 cm.jpg
In case of problems with heating, Maslov suggests heating a metal jar with stones on the stove, turning worn-out trousers into shorts, and so on. Among Maslov's advice there are also very absurd, in some ways even mocking, recommendations.
"After drinking tea, carefully collect the tea in a clean container, fill with cold water and boil for two or three hours, first putting a clean cloth there. When you do not have money for brewing, you can tear off a piece of cloth and suck, "- advises Maslov.
This is exactly how sharply and how much, with a share of madness, the artist reacted to the ongoing perestroika in the countries of the former USSR, to the transformation of people's consciousness and to the difficult economic situation.