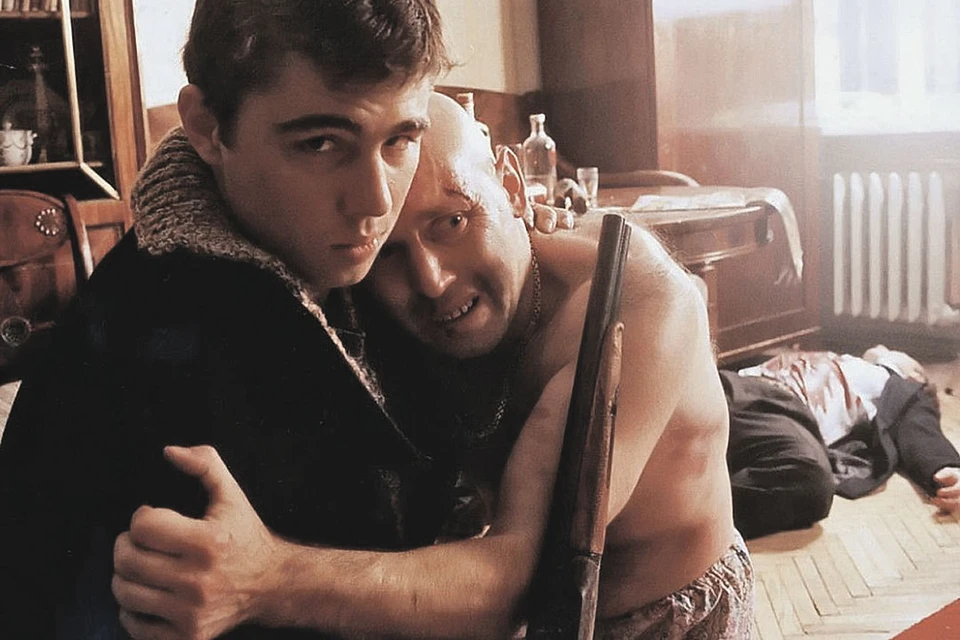 Danila was younger than his brother played by Viktor Sukhorukov, but the last word always remained with him. Photo: Frame from the movie
The legendary dilogy of Alexei Balabanov with Sergei Bodrov Jr. has reappeared in theaters, and there are many reasons for this – for example, this year marks the 25th anniversary of the premiere of the first "Brother". And these popular pictures were shot not without adventures and problems.
BUDGET – THREE POPES
In the mid-1990s, the Gorky studio offered young directors meager money to make a real film. It is clear that the budget was not enough for scenery or special effects. Cinematographers were invited to work on the streets of their city, to shoot interiors at the homes of acquaintances. In general, it was an interesting creative task (although formulated, of course, not from the good life). Alexei Balabanov's "brother" became the most valuable thing that was born from this venture. It is said that the budget was a microscopic $ 50,000, but producer Sergei Selyanov recently clarified: "$ 99,600."
CLIP IN EXCHANGE FOR ROLE
Due to budget constraints, many actors acted for free (some were paid a fee later when the film sold well on cassettes). Actress Svetlana Pismichenko, for example, received a thousand dollars just a few months after the premiere. Vyacheslav Butusov starred in the film (and granted the rights to the music) in exchange for the fact that Balabanov shot a music video for him.
THE FILM WAS GIVEN BY "ANNA KARENINA"
There was not enough film, so the scenes were shot with a maximum of two or three takes. But the film was unexpectedly lucky: the Americans from the studio Warner Bros. filmed "Anna Karenina" in St. Petersburg with Sophie Marceau and Sean Bean and, leaving, left a few packages of "Kodak", which managed to buy cheaply.
35 RUBLES FOR A COLOR SWEATER
Danila Bagrova's famous sweater was bought by Nadezhda Vasilieva (Balabanov's wife) in a second-hand shop for 35 rubles. She wanted the clothes to somehow reflect not only the soul of the hero, but also the soul of her husband. "When I saw this thing, I immediately thought that it would be suitable for Lesha. My grandmother always knitted such sweaters for him, large knits, warm and cozy …
And since I have always seen Lesha in Bagrov – a man who can protect, stand up for himself and his loved ones – I immediately realized that you can not think of better clothes for him. Later, Vasilieva said that Bagrov's sweater resembled the chain mail of Russian heroes.
DANGEROUS SHOOTING
Bodrov Jr. recalled that during the filming, of course, they fired blank bullets – and yet it was risky for the actors: "I will never forget how the scene was filmed with Pavel Evgrafovich (Sveta's husband, played by actor Vladimir Ermilov. – Ed.) when I shoot him in the legs from the edge. There was more smoke, so the gunpowder was not spared. And here's the shooting, the doublet shot, the roar, the smoke, it falls like a mown… Shot! The smoke dissipates, and the artist lies in a pool of blood – above the knees two holes from the wad… »
AMERICAN COPS AND PROSTITUTES

The role of Dasha's prostitute was played by Daria Jurgens, but the heroine was voiced by another actress – Natalia Danilova. Photo: Frame from the movie
Balabanov and producer Sergei Selyanov started talking about the filming of "Brother-2" during the filming of "Brother". The sequel was shot on a much larger budget than the first film: according to Selyanov, it cost $ 1.3 million. The film crew was even able to get to Chicago, but still worked there in extremely cramped conditions. For example, they managed to make friends with the police in a town near Chicago, and they allowed filming in their office, even let the authors into the cells, where real prostitutes and drug addicts were sitting. In general, according to cameraman Sergei Astakhov, filming was often "guerrilla": for example, in Chicago it is forbidden to shoot in the subway, the authors barely managed to film the scene before the controllers entered the car.
HE CALLED JOHN MALKOVIC
In 2000, in an interview with OM magazine, Bodrov said: "There were ideas to invite great actors. Until the last moment, John Malkovich was discussed. Steve Buscemi read the script. Jennifer Beals (the star of "Flash Dance" – Ed.) Seems to have agreed, but said the film is racist. And Malkovich did not have time. But, strangely enough, I think it's even better. If we had invited Schwarzenegger, everything would have taken on a surreal twist at once. "
COAT FOR SUKHORUKOV
In the first film, Viktor Sukhorukov appears in a green coat, actually female. Nadezhda Vasilieva bought it for herself when she was in Germany, and then decided to wear it as an actor. And in memory of the filming of "Brother-2" the actor was left with another coat – men's, not cheap, which was worn by the hero Bodrov. In early 2003, a few months after the tragedy in Karmadon, Sukhorukov said in an interview with KP: "Remember the scene at the end of" Brother 2 ", when Dasha and Danila are rushing around the airport? Earrings – in a dark brown hat and a chic light brown coat. He gave them to me, saying: "Not my style … And you, Vityusha, are a solid person" … I never wore them. He was embarrassed.
It seemed to me that the whole country would know and say, "Oh! Bodrov's coat is worn! " And on September 19, 2002, I was filming for television. Journalists were asked to dress cool. And I put on Seregino's coat. For the first time in three years. Not knowing that this evening he had his first day of filming in Carmadon. And on the 20th I heard terrible news on TV. And the first thought – I put on his coat yesterday! And my head was dizzy… "
Sergei Bodrov died tragically on September 20, 2002 in the Karmadon Gorge in North Ossetia. Together with his film crew, he fell victim to a descending glacier.
WALLET
Saltykova was paid more than Bodrov

Irina Saltykova did not expect that she would go down in the history of cinema not as a singer, but as the star of "Brother 2". Photo: Frame from the movie
Alexei Balabanov, in any case, wanted to shoot a real pop star in "Brother 2", despite the fact that he understood modern Russian pop music poorly. He was brought photos of several singers, they say, among them was Alena Sviridova. But Balabanov immediately, according to the photo, chose Irina Saltykova. Then it turned out that she had not watched any of his films. He came to her, told about his paintings and about the upcoming "Brother 2". Saltykova starred in the film for only six days and received $ 18,000 for her work – $ 3,000 a day. (Balabanov said: "I did not pay anyone such money, but I will pay you!") This was more than Bodrov's bet. At the same time Saltykova allowed to shoot several scenes in her real apartment.
5 phrases that went to the people
– Soon all of your America – kirdyk.
– You answer me, reptiles, for Sevastopol!
– We, Russians, do not deceive each other.
"Tell me, American, what's the power?" I think that the power is in the truth – whoever has the truth, is stronger.
"Boy, you don't understand!" Bring us vodka. We are flying home.