Doctor of Economics Sergei Moshensky, Director of Economic and Legal Affairs of the Planeta Group of Companies, has written a fundamental book on the financial history of mankind in the spirit of an adventure novel. He describes such economic processes and events of the last millennia of human history as the birth of credit, the emergence of the first stocks, economic crises and investment revolutions competently and fascinatingly, emphasizing how they have affected people's destinies.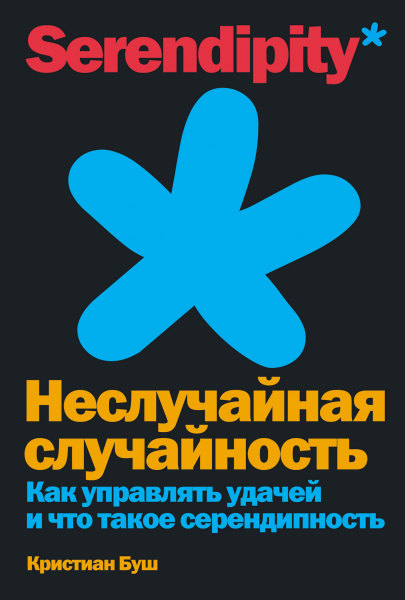 The author of this book, Christian Bush, a business consultant and innovation expert, professor at the London School of Economics and Political Science, and head of the global economics program at New York University, is convinced that man can tame luck. For a decade and a half, he studied serendipity, that is, the ability to make breakthrough discoveries based on inferences from random observations, and developed it independently. To study the manifestations of serendipity, Bush founded the Sandbox Network, a community of inspired young people in more than 20 countries, and Leaders on Purpose, an organization that brings together high-performing top executives and politicians.
Unexpected acquaintances, strange coincidences, sudden events – all this can change lives dramatically. What if we learn to manage these coincidences, or rather luck? And there is no esotericism, no mystical knowledge in this, because serendipity is about the development of observation and understanding of how circumstances affect each other, when it is not obvious to most. The author builds the narrative on research, real cases and inspiring examples and offers exercises to increase the likelihood of happy coincidences.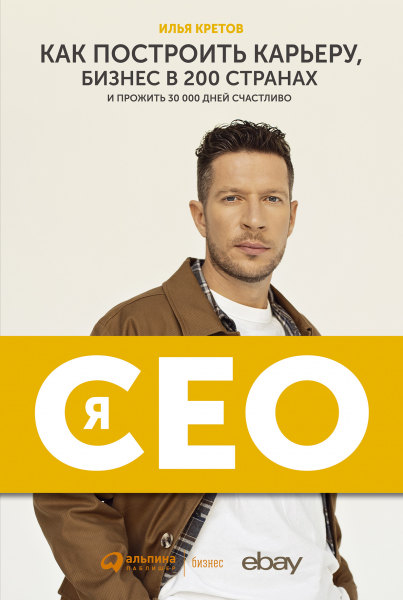 Ilya Kretov's career can be envied. Currently the Director of E-Commerce at Tinkoff, he has led eBay in global emerging markets. Ilya Kretov dedicated his book to people who want to succeed in business, realize themselves in the profession and become the CEO of their own lives. In it, he shares his story in big business, describes management techniques and leadership rules based on his own experience: how to gather and develop strong teams, how to set goals, not to fall for fear, find motivation and not burn out.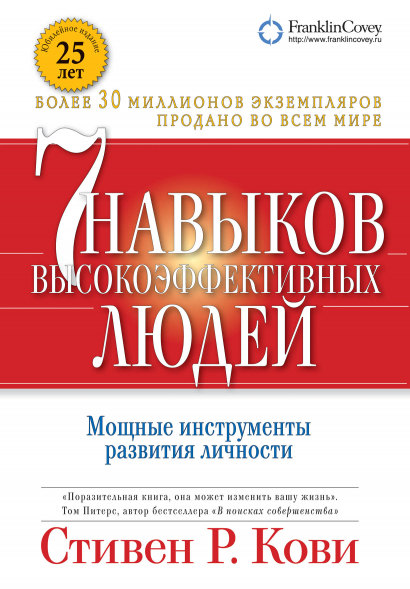 The book by leadership consultant Stephen R. Covey has remained a super-bestseller for two decades. It has affected the lives of millions of people, regularly appears in the lists of the most influential books on business, and global corporations include the next edition of "Seven Skills" in corporate libraries and encourage each employee to learn the principles of efficiency philosophy.
The author talks about seven skills, the development of which will help maintain self-control, keep things under control, maximize self-realization without being distracted by trifles, formulate life values ​​and focus on them in making any decisions. The seven skills may seem simple, but the continued success of Covey's book confirms that they can form the basis of a life strategy focused on long-term success.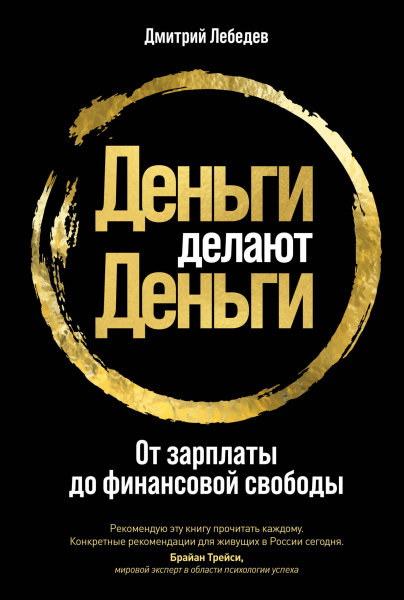 The author of the book, Dmitry Lebedev, worked as a physics teacher at the school, and in the 1990s founded his business from scratch. At the time of writing, the entrepreneur and owner of Basis Investment Company has 20 years of experience managing real estate and logistics.
This book is about an important component of true freedom – about financial freedom. Everyone wants to earn a good income and not work around the clock to spend time with loved ones, pursue hobbies, travel and so on. At the same time, there is a risk of becoming a hostage of your own business, because it requires constantly keeping your hands on the pulse, without being distracted for a minute. Therefore, Lebedev does not write about wealth, but about financial freedom and ways to achieve it. He talks not only about how to earn, but also how to save, increase income in the most comfortable conditions for themselves. This book is written taking into account the Russian reality: it contains a lot of practical advice that will be easy to implement in our country, in contrast to the recommendations of foreign experts who have not worked in the Russian market.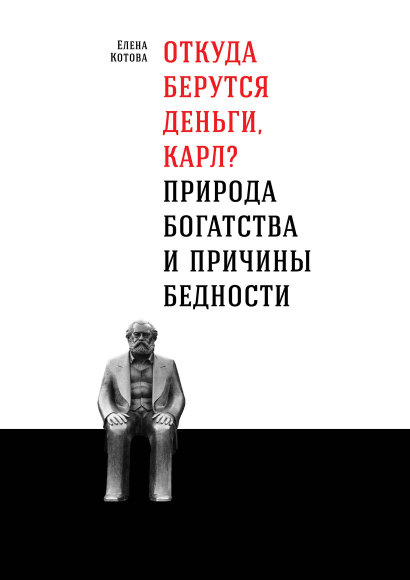 Elena Kotova, a specialist in international finance and PhD in economics, has written a fascinating book on economics, trying to find an answer to the popular question: "Why do people live well there and not in Russia?"
For the answer, the author of the book turns to one of the main theorists of economic thought of the XIX century, Karl Marx. Through the prism of Marx's economic ideas, Kotov invites readers to look at world history without prejudice: how did they make money in the United States, European countries, China? And most importantly – why did they manage to achieve prosperity for their people, and Russia is not so much? The answer seems obvious: if money is created by the free labor of a free man, the country becomes advanced, and if freedom is taken away by the state for the illusion of justice and equality, there will be less money in the country, and it will go mainly to Leviathan and his representatives. Kotov recommends starting the path to change with thinking, abandoning stereotypes such as "you can't make money by honest work", habits of doing things "according to concepts" and tax evasion, as well as financial education.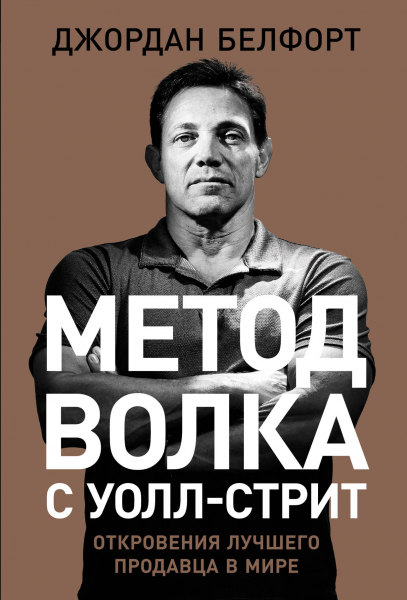 Jordan Belfort is the one played by Leonardo DiCaprio in the famous film by Martin Scorsese. He trained thousands of young people in trade and turned them into brilliant professionals with the help of the author's method "Straight Line". If you want to know how Belfort managed to crack the sales code and develop an effective sales training system, you will definitely like this book.
According to Belfort, a straightforward sales system can radically change the life of anyone, even an uneducated person, a commercial vein, communicative talents. This technique eliminates methods of severe psychological pressure, dubious scripts and tactics, the purpose of which is to conclude a deal at any cost in order to obtain commissions. You will learn about ethically sound, honest and effective business strategies that will help reduce the sales cycle, increase the closing rate of transactions, adjust the flow of recommendations and gain loyal customers.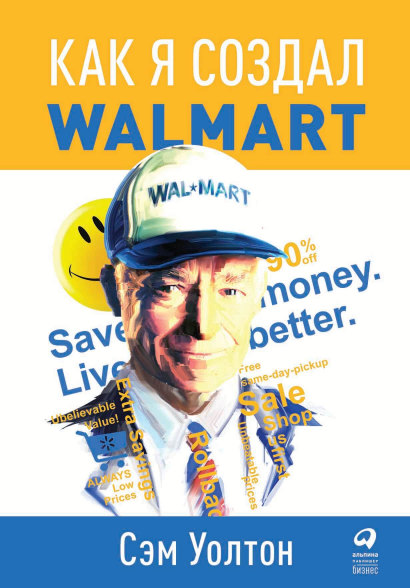 Sam Walton, founder and president of the leading American retailer WalMart, has written a book about how he managed to create the world's largest wholesale and retail chain. The entrepreneur shares the rules of successful business management, which will help improve the quality of customer service and increase the involvement and trust of employees.
Walton writes that his main quality, with which he managed to build a business empire and keep afloat – an incredible passion for struggle. The businessman openly shares his story of combating disbelief in his ideas and the ideals of others and step by step reveals his path from a simple worker to the founder of a huge corporation. It turned out to be inspiring, sometimes funny and definitely useful for those who want to adopt the principles of a billionaire and achieve their own goals.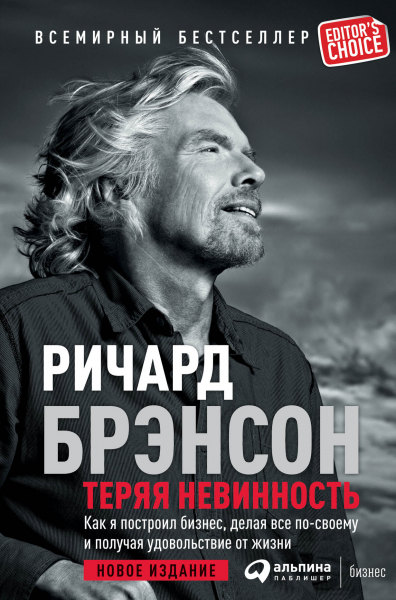 The outrageous billionaire, founder of the Virgin Group Corporation Richard Branson in his autobiography shares stories from business and personal life – it turned out, as Oleg Tinkov said about the book, "the bible of the rebel." After reading it, one can easily understand how Branson manages to fearlessly engage in risky activities (such as a tank trip in New York's Times Square or a balloon flight), to be almost at the bottom, but always find the strength for revenge. The book carries a charge of healthy optimism and is read in one breath: the biography of the British eccentric is like an exciting action-packed read, not a classic memoir.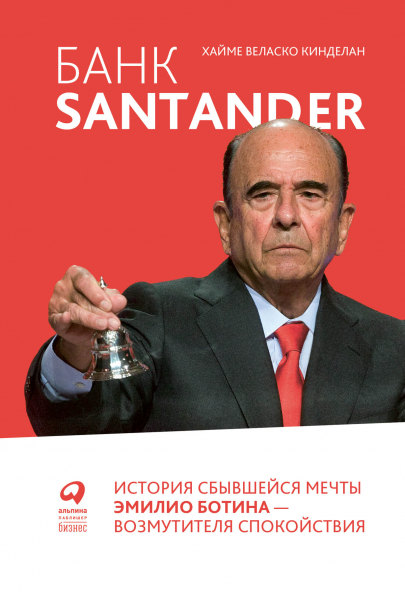 Economic journalist Jaime Velasco Kindelan has written a book about how a small Spanish bank, which started at 152nd place in the world capitalization rankings, managed to enter the top ten world banks in 30 years and gain strong leadership in the eurozone, Latin America and the City of London. This book is not a chronicle of the ups and downs of Santander and not a biography of its president Emilio Botina, but an honest and detailed account of the trajectory of the financial corporation, the fate of the Botin dynasty and the history of the Spanish banking system. Kindelan tries to explain how a very bold dream came true and how Botin managed to climb to the top of the leadership.
READ ALSO:
What will be remembered in 2021: 10 important books of the past year
10 books that will teach you to work more efficiently remotely (and not burn out)
What billionaires read: Bill Gates named 5 favorite books of 2021
Do you want to follow the events in the world of luxury? Subscribe to "Robb Report Russia" at Instagram, Telegram and Facebook.