It is open in the Marble Palace of the Russian Museum until June 6 exhibition of the AZ Museumdedicated to portraits by Anatoly Zverev and other Moscow unofficial artists. Working in conditions of cultural isolation, they not only found opportunities to create, but also managed to gain worldwide fame – although many had to emigrate. That's how it was.
Anatoly Zverev. Portrait of Polina Lobachevskaya, 1958
© AZ Museum
Apartment exhibitions
As non-conformist artists could not organize exhibitions for a wide audience, all artistic life began to take shape around apartment exhibitions. By the mid-1970s, after a self-organized and immediately scandalously devastated Bulldozer Exhibition by police, exhibits in private apartments became so popular that long queues formed.
At that time there were several main locations where "their people" usually gathered to see "other art": the apartments of pianist and painting lover Svyatoslav Richter on Bolshaya Bronnaya, photographer Vladimir Sychev on Trubnaya Square, as well as Oscar Rabin, Iosif Kiblitsky, Koryun Nagapetyan, Nikolai Andrievich and others.
It was in this format that the 1975 Preliminary Apartment Views of the All-Union Exhibition were held, with the participation of about one hundred and fifty artists, including Anatoly Zverev, Dmitry Plavinsky, Mikhail Roginsky, and many others. In his book "Rows of Memory", the artist Nikita Alekseev recalled the following exhibitions:
"The main room was only eighteen square meters, with two large windows, so the exhibition walls were not always enough, and in some exhibitions the area of ​​the apartment was used in full, including the ceiling."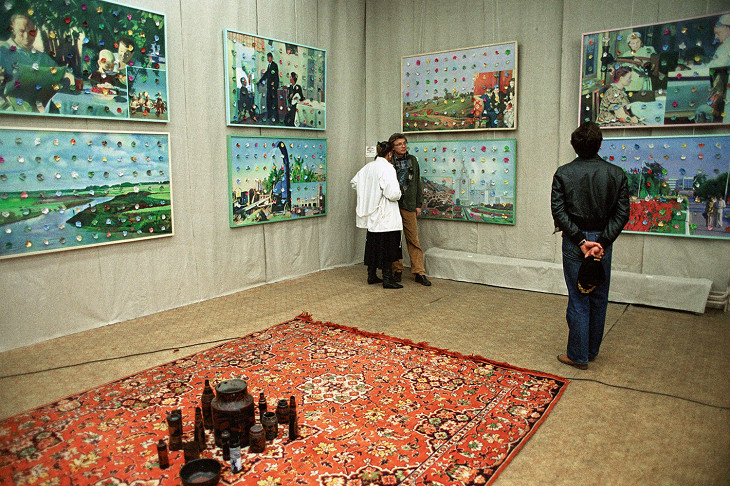 Ilya Kabakov's paintings "Holidays" at the exhibition of Moscow avant-garde artists "Housing", 1988
© M.Yurchenko / RIA Novosti
New trends
Circles and studios sprang up around some of the artists, many of which later grew into separate areas. One of the first studios of informal art was "New Reality", created by Eli Belyutin. The members of this group demonstrated the need to turn to the inner world of man instead of a realistic reflection of the surrounding Soviet reality.
In the late fifties, the so-called Lianozovo School was born, whose members gathered in the apartment of a barrack located near the Lianozovo station. Along with artists, it included poets – Heinrich Sapgir, Igor Kholin, Jan Satunovsky.
One of the most famous trends was Moscow conceptualism, which originated, in fact, in the famous studio of Ilya Kabakov on Sretensky Boulevard. Among its regulars was the philosopher Boris Groys, who noted:
"Art in the West speaks to the world in one way or another. It may be about faith, but it is about how faith is embodied in the world. It may speak of itself, but it speaks of how it is carried out in the world. From art to the present day, Russian art wants to talk about a different world. "
Details on the topic
From "Don Quixote" to Gogol: 5 amazing works from the exhibition "I love Zverev"
From "Don Quixote" to Gogol: 5 amazing works from the exhibition "I love Zverev"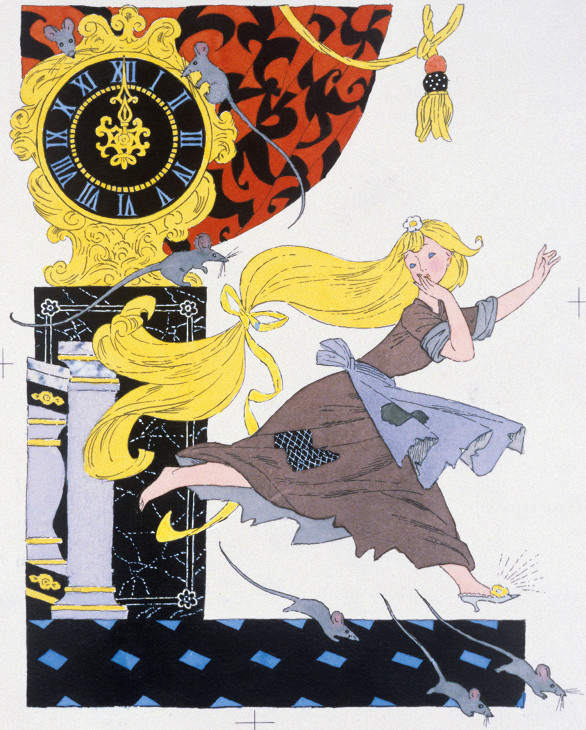 Illustration to the fairy tale by Charles Perrault "Cinderella" by Eric Bulatov and Oleg Vasiliev. Moscow, Malysh Publishing House
© RIA Novosti
Persecution in the homeland
For decades, painters unwilling to join the Artists' Union faced persecution under the article on parasitism. Some bypassed him, working as handymen, others managed to do work closer to art, for example, as designers of children's books, as in the case of Eric Bulatov and Ilya Kabakov.
However, the avant-garde was persecuted with extreme cruelty almost until the end of the Stalin era – and not always due to lack of official employment. Thus, in 1949, Soviet Estonian artist Julo Sooster was arrested and exiled to Karaganda under Article 58 of the Criminal Code (counter-revolutionary activity).
And three years earlier, Boris Sveshnikov, who later became famous for a series of camp drawings, was accused of anti-Soviet propaganda and, moreover, of attempting to assassinate Stalin. Another prisoner, Lev Kropyvnytsky, worked in the same brigade with Sveshnikov. Writer Andrei Sinyavsky, who was also serving a sentence in the camp, described Sveshnikov's drawings as follows:
"Who does not know that this is a camp, will not guess. Let it go. Let it be so. Let it remain – unrecognized. It's better: art. These are not sketches from nature, but dreams of eternity, gliding on the glass of nature or history.
Details on the topic
Ilya Kabakov and his universe: how the world of the main Russian artist is arranged
Ilya Kabakov and his universe: how the world of the main Russian artist is arranged
Anatoly Zverev. Self-portrait in a hat, late 1950s
© AZ Museum
International recognition
In the late fifties, interest in the work of nonconformist artists began to appear abroad. As early as 1959, Life published works by Anatoly Zverev, and in 1961 the New York Museum of Contemporary Art purchased three watercolors by the artist.
In the 1970s, unofficial artists became more and more popular in the West, and their art became more and more willing to be exhibited in European and American galleries. During this period, many artists – Oscar Rabin, Mikhail Grobman, Komar and Melamid – decided to leave the Soviet Union.
Among them was photographer Vladimir Sychev, who recalled: "From my first days in Paris, I started working for the SIPA Press agency, and so began my professional career as a photographer in the West. "As a result, I became the most published photographer in the world in the 1980s."
Details on the topic
Komar and Melamid: what to see at the exhibition of the most famous duo of artists
Komar and Melamid: what to see at the exhibition of the most famous duo of artists