Rimas Tuminas has been fired as the director of the Vilnius Maly Theaterbut believes that only death can take away his theater. Yuri Loza is confident that Russia will not notice its absence at Eurovision. Actress Brigitte Bardot is not afraid of the coronavirus and even talks about its need. Director Emir Kusturica headed the Russian Army Theater and wants to change the acoustics there. The soloist of the group "Lube" Nikolai Rastorguev recalled how he got to BAM, and gave advice against stellar disease. Sotheby's auction house hopes for a new record by setting a post-war avant-garde. And the writer Dmitry Danilov was inspired by Victor Hugo and published a thriller about punishment. Izvestia has chosen the most interesting in the world of art.
Storm in the glass
Russia will not participate in Eurovision in 2022, the organizers of the competition said. "The decision reflects our concern that, in light of the unprecedented crisis in Ukraine, Russia's participation this year is discrediting the competition," the European Broadcasting Union (EBU) said in a statement.
Singer and composer Yuri Loza believes that domestic culture will not lose from this decisionbecause in recent years the artists representing our country have worked in the traditions of Western pop and with a view to the European audience.
Photo: Global Look Press / Aleksandr Gusev
– Do you think that Russia will somehow notice this? I don't think he will notice, – the artist shared in a conversation with "Izvestia". – All Eurovision discussions are a storm in a glass of water. Which of the songs presented by our artists at Eurovision for the last 15 years has remained in Russia and warms the hearts of Russians? None. Because these songs were written mainly by foreign authors, performed in a foreign language, in foreign clothes, in scenography made by foreigners… Our artists worked on British culture at this "Eurovision", popularized it. And if the British kicked us out, they only made it worse.
The Eurovision contestant from Russia was to be determined in early March by a spectator vote on Channel One, the Russian broadcaster of the contest. The final of "Eurovision-2022" is to take place on May 14 in Turin, Italy.
Theater in itself
Rimas Tuminas has been fired as the director of the Maly Theater in Vilnius, which he himself once created.. The decision to resign the world-famous director was made by the directorate of the institution at the request of the Minister of Culture of Lithuania Simonas Kairis. Tuminas combined his position in Vilnius with the artistic direction of the Vakhtangov Theater.
A report by Tuminas appeared on the website of the Vakhtangov Theater, where he wrote that he acknowledged the rightness of the minister, as Lithuania is a member of the European Union, but only death can take away his theater..
Photo: IZVESTIYA / Andrei Erstrem
"I built a theater in myself for a long time, I built it, and I can't take it away from me, I can't steal it. Theater in me, theater with me – here I am. So nothing can take it away from me or destroy it. Only death. Death decides this – not the Minister of Culture, not politicians, no one – only death, "wrote Rimas Tuminas.
Regarding his position in Vilnius, the director noted that he had not staged performances there for a long time and was a "symbolic" artistic director.invited to the theater as its founder.
Brigitte and the crown
TV series "BB" director Daniel Thompson, whose filming began in France, promises to be the event of next TV season. However, Brigitte Bardot, about whose youth the film tells, is indifferent to who and what she says about her.
– I'm not interested in this project at all, – said the actress. – Everyone who is not lazy writes about me. Everyone is trying to write "biopics" about my life. Now Daniel Thompson has decided to take a risk. Let's see what she does.
Brigitte Bardot in the film "And God created a woman." 1956
Photo: Global Look Press / Supplied by FilmStills.net
Brigitte Bardot told Izvestia that she had lived two lives. The first went to the movies and turned out to be great, full of fabulous events, but at the same time deprived the actress of her freedom. The second life dedicated to the protection of animals, Bardot, she said, started from scratch and withstood unimaginable trials, donated to all to create their own fund.
And the actress explained why she is not afraid of the coronavirus pandemic.
– I am not afraid of COVID-19 – on the contrary, I consider it necessary, – she emphasized. – I hope that it will to some extent help to restore the balance between nature, man and the animal world. Otherwise, the universe will face a repeat of the Big Bang.
Interview with Brigitte Bardot – very soon in the "News".
Kusturica's time
Holder of two "Golden Palm Branches" Emir Kusturica will take the position of chief director of the Central Academic Theater of the Russian Army. The Serbian filmmaker accepted the proposal of Russian Defense Minister Sergei Shoiguin whose department the theater is located.
– The Russian Army Theater is an ideal venue for staging military-themed performances with Russian actors, actresses and orchestras. told Kusturica to Izvestia. – I have not yet decided on the repertoire, but it would be interesting to put the best examples of Soviet film classics. I dream of staging a play based on the film "Flying Cranes" (Mikhail Kalatozov's film. – "News") – this is one of my favorite films.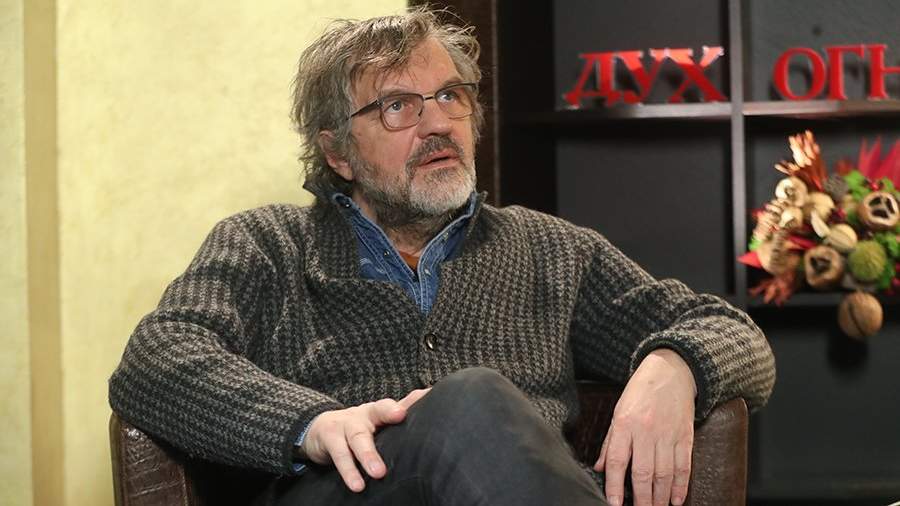 Emir Kusturica during an interview with Izvestia
Photo: IZVESTIYA / Andrei Erstrem
The director called the stage of the Army Theater one of the largest in Europe, noting that it is necessary to adjust the acoustics to give performances with music. According to him, the contract with the theater has not been signed yet and the salary has not been determined, but money is not the main thing – he is most interested in creating new meanings.
According to the editor of the Izvestia culture department, Svetlana Naborshchikova, a doctor of art history, film directors directing theaters are an infrequent phenomenon, but not an exceptional one. Nikita Mikhalkov heads the Theater-Studio of the Film Actor, Andrei Konchalovsky was a member of the triumvirate of Khudruks of the Mossovet Theater. Another thing is that Kusturica has no experience in leading such large institutions and many other creative works that he is unlikely to leave. The theater may simply not have enough attention from the main director, the expert summed up.
Rastorguev's star
Lube Group celebrates 65th anniversary of its frontman Nikolai Rastorguev with concerts in Moscow and St. Petersburg. Legendary compositions of musicians were played – "Atas", "Don't be a fool, America", "Horse", "Behind the fog" and others. In a conversation with Izvestia, the jubilee told how he began his career.
Lube soloist Nikolai Rastorguev performs at the band's 65th anniversary concert at Crocus City Hall
Photo: RIA Novosti / Mikhail Voskresensky
– It was better in the Soviet Union because we were young, reckless, it was interesting to travel around the cities, there was a sense of romance, – remembered he. – In 1979, I first came to BAM, the festival "Highway Lights". I remember those times, I saw with my own eyes how everything happened. But then we received much less money, we had bets, worked from the Philharmonic. In the 1990s, when Russia's recent history began, everything changed dramatically.
Rastorguev called upbringing the best cure for stellar disease, noting that when he worked at VIA "Six Young", he had something to learn from older comrades: if one of the young starred at least a little, they immediately put in place, did not spare. And when "Lube" became famous, he was already an adult, so it would be strange to behave inappropriately on this topic, the artist concluded.
Exemplary things
Auction house Sotheby's will put up 30 lots from the collection of New York billionaires Harry and Linda McLaw at the May auction. Last November, 35 works from this collection sold for a record $ 676 million. The new selection includes Mark Rothko's Untitled ($ 35-50 million estimate), Andy Warhol's self-portrait ($ 15-20 million), Gerhard Richter's landscape $ 25-35 million) and other masterpieces.
Photo: Sotheby's
Canvas "Untitled" by Mark Rothko
Candidate of art history, columnist "Izvestia" Sergei Uvarov believes that the auction will attract the attention of collectors, but will not be able to surpass the November result, although the final amount will in any case be measured in the hundreds of millions of dollars.
– In the first part of the collection there were several works with an estimate above $ 50 million. There are no such expensive things in the new one, – said the expert. – For example, Mark Rothko's "Number 7" was sold for $ 82 million with an estimate of $ 70-90 million, and now his item with an estimate of $ 35-50 million is offered. However, it is clear that these are still exemplary, outstanding things – a whole slice of post-war avant-garde art.
Humane machine gun
Dmitry Danilov's new thriller novel "Sasha, hello!" Has been published, in which the protagonist is a philologist sentenced to death, and Sasha is a large-caliber machine gun, ready to execute the sentence at any time.
According to the writer, the idea arose after reading Victor Hugo's book "Notes of the sentenced to death."
Photo: AST
– Suddenly she made a very strong impression on me, there was an inner need to write something on this topic, – the writer shared with "Izvestia". – To think about the state of a person caught in such a situation, to observe how he will behave, talk, be silent, sit, move. As a result there was a pure fiction about a humanized system of punishment, polite and indifferent attitude to prisoners, cameras resembling rooms in a good hotel with comfortable orthopedic mattresses and unlimited internet.
Talking about modern literature, Dmitry Danilov, whose fame began with the play "Serezha is very stupid", noted that the profession of playwright is in vogue, and hundreds of works come to any major competition like "Lyubimoviki". Trends include plays about teenagers and teenagers, as well as works on gender issues.
Interview with Dmitry Danilov – very soon in the "News".