The Russian game "Black Book" recently passed the important mark of 100,000 copies sold on Steam. We spoke with Morteshka leader Vladimir Beletsky about the success, the risks of an independent developer, the difference between stealing ideas and creative borrowing, and plans for the future.
Morteshka is a studio from Perm. On their account so far two projects – a two-dimensional thriller "Man" (Steam, iOS) and a story card game Black Book. In it, a young witch, Vasilisa, fights an evil spirit to bring her fiancé back from hell.

– How did you become a developer?
– It was a dream, which I thought of as unreal. Everything changed when the FGL boom began (Flash Game License – flash game store), managed to work on several flash projects, and then got a job at Alternativa Games, where he worked with brilliant colleagues to develop their professional qualities and engaged in indie development.
– To what extent does the success of the game guarantee a comfortable existence of the team? Can you fully fund the next development at your own expense – or is it not necessary, the publisher helps you?
– It is still difficult to say about the next development and its financing, because we do not have a specific prototype. As soon as it appears and the scope of work is clear, it will be possible to plan the necessary amount of resources for the implementation of a full-fledged project.
– How big are the risks? If the Black Book fails, would it mean the demise of the studio or would you be able to move on relatively comfortably?
– Every new project for us is this a matter of life and death. If a particular game sells poorly, there is a good chance that the next one will simply not be available or it will appear in a different format (for example, as "Human", which we worked on part-time). As the "Black Book" turned out to be interesting for the players, we can look more confidently into the future and think about continuing to work on the next game in full time.
– How many people are on your team now?
– The team is dynamically formed for specific tasks, different numbers of people worked on the game at different times. Now in the studio at full rate three people. The basis of the team from Perm, but in general all work remotelyso we consider the office as an opportunity, not a necessity.
– I saw your performance at DevGAMM. How has your marketing strategy changed since then?
– In this video, I just talked about one of the conclusions we made as a result of working on "The Humanist", – entrust marketing work to professionals. This is what we did while working on the Black Book, and immediately began searching for a publisher as soon as the first worthy prototype appeared. As a result of a rather long search, we found Hypetrain Digital (an indie game publisher that released Stoneshard and Police Stories) and decided to continue to develop and promote with their help. Exit to Kickstarter was a joint decision: in addition to financial assistance, this step allowed us to express ourselves and draw attention to the project. There was also the PR agency Jellop, which helped promote the campaign. I think that without proper marketing support and PR, the results of crowdfunding would be more modest.
– Now an unpleasant question. I'm a big fan Slay the Spire. Especially the mechanics of telegraphing the attack (before attacking, the monsters inform the player of their intentions). I saw a great interview with Anthony and Casey, and, if I remember correctly, they did not immediately come to this concept. Not only did they both have a lot of experience playing card games, they also iterated for a whole year. You, in fact, just took their ready-made experience.
– In the gaming industry, ideas are evolving and are reused: Yes, without Doom we would hardly have seen Duke Nukem 3D and other FPS. It seems to me that the key point here is this: whether it is a literal copying of the game or the development of the original idea, its branching. So, in our case, although we show the intention of the enemy, but we do it differently – we fully demonstrate the card of the opponent's ability. In addition, in our game there is a development of the idea of ​​mana, which is not used at all, but moved to special cells of words that reflect the structure of the plot.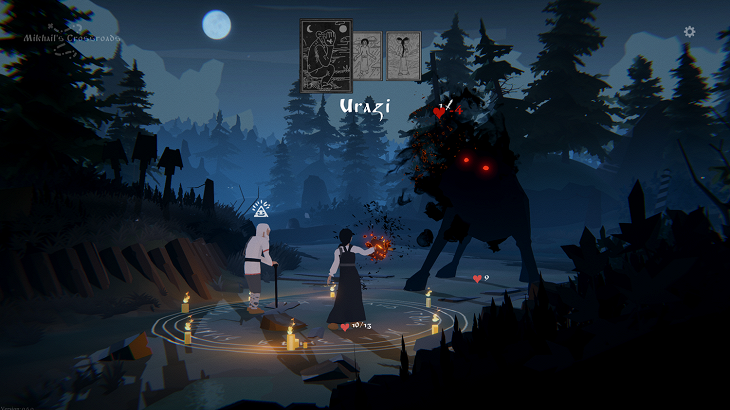 – What other works exist in the style you have chosen? Let's say a person has passed the Black Book and wants supplements. What would you recommend to him?
– If you are interested in games on conditional Slavic mythology, you can contact mine article on this topic, where all the games created at the time of its writing are collected. If other media are interested, I would recommend Vasily Tikhov's book "Scary tales told by grandfather Egor."
– What are you playing now? Please name your top 3 most amazing underrated games.
– Now I decided to go over Eye of the Beholder 2 and began to pass King's Bounty 2I'm waiting Pathfinder: Wrath of the Righteous.
Of the inconspicuous games I would note the following: L'Abbaye de Morts designer Locomalito, who was the inspiration for "Man", Dungeon Crawl Stone Soupwhich became a real heiress Rogueeven before the "bagels" came into vogue, and The Domovoi Kevin Snow, which, oddly enough, is one of the most authentic games in Slavic mythology.
– Has the development of a new project already begun?
– There are small sketches, but no specific plan yet. Now we are going to start pre-production to decide on the gameplay, setting and more. Also in the near future plans to polish the "Black Book", possibly work on DLC.