She has a very modest filmography: only 13 pictures. But she still got her share of fame. For the viewer, she will forever remain a "Soviet Juliet." Tatiana Aksyuta played in the melodrama "You never dreamed…", a film adaptation of the story of the same name Galina Shcherbakova. On March 12, the actress turns 65.
Kate could not find a couple
According to the passport, which was born in Moscow in 1957, Aksyuta is really 65. But outwardly you can give 30. She always looked younger than her age, which is why she was approved for the lead role in the film "You never dreamed« ". In the USSR, the film was watched by 30 million viewers, according to a survey by the magazine "Soviet Screen", the film was recognized as the best picture of 1981. Soviet Romeo and Juliet appeared in the country: ninth-graders Romka and Katya, who performed Nikita Mikhailovsky and Tatiana Aksyuta. Looking at the main character, the fragile high school student Katya Shevchenko, few could have guessed that the actress was 23 at the time. Tatiana was not only 7 years older than Nikita, but also married.
"I was confirmed in the picture" You never dreamed of… ", but the hero could not be found," said Tatiana Aksyuta in a TV interview. "I haven't tried anyone." Shoot tomorrow, and there is no solution. And suddenly the assistant director remembered that in Leningrad lives a boy Nikita, who once starred in the film "Children as Children" with Margarita Terekhova. Urgently went to Peter, pulled him out of school (he was in 9th grade) and began filming. And they started shooting from the finale of the film, because it was already February, the snow was starting to melt. The first scene was where Roma had already fallen out of the window and we were sitting on the ground. This is the last frame. Nikita and I were not yet acquainted, there is no emotional connection that should be between our characters, and not in the least. But they put us in and said, "Play." What to play ?! I began to analyze the situation: so, if he fell out of the window, then what should I do? Probably, to be careful with it, not to damage the spine, not to pull it. "
Even the portrait was stolen
After the picture came out on the screens, Tatiana became so famous that it brought her more inconvenience than joy. "It was something incredible," Tatiana Aksyuta recalled in a TV program. – The audience did not know that I was a married woman. Everyone thought I was really a schoolgirl. "Katya Shevchenko" was flooded with letters from schoolchildren, soldiers and criminals: they offered me their protection from bad people who met my heroine from places not so far away. One day I come to the theater, and the director calls me to the carpet. My God, what is it? It turned out that they stole my portrait from the actor's photo gallery in the lobby. And more Igor Nefedov: he then starred in Nikita Mikhalkov in "Five Evenings", in "Fox Hunt" Vadim Abdrashitov. He cut me too. We were then hanged at the very top. I joked: "Igor, we are now with you as husband and wife." Two of our portraits hung apart from everyone: next to each other, under the very ceiling, on top of a slender row of photographs of other actors. "
According to Tatiana Vladimirovna, she still loves soft toys. And in 1976, Tatiana Golubyatnikova (she will become Aksyuta later) came to enter GITIS, holding a teddy bear under her arm. "I really wanted to be a history teacher," the actress later admitted. – Twice I entered a pedagogical institute, and twice I missed a point. I went to work at the Institute of Culture. There she met the guys, they studied to be directors of club mass performances. I fell in love with one of them. We met in September and parted before the New Year. And for six months I did not know how to live and what to do. And because of this I went to the theater institute: I had to pour out my feelings somewhere, to sublimate them. "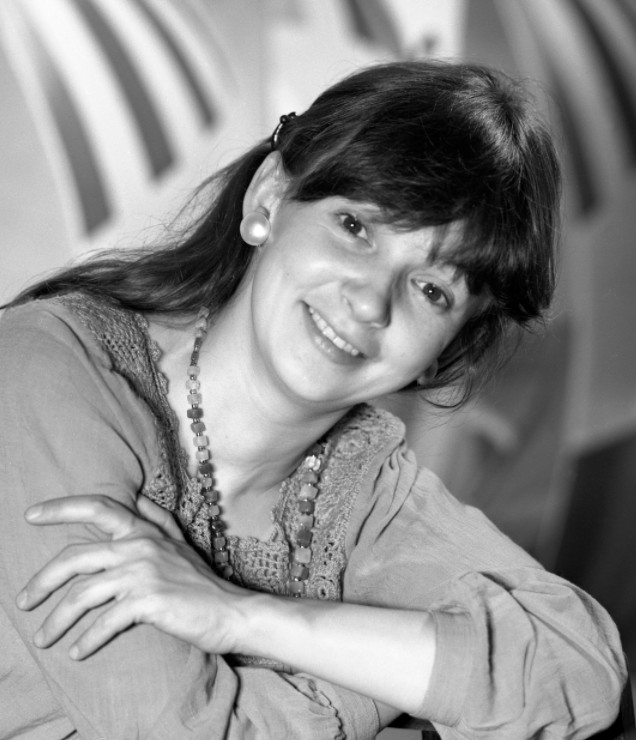 I didn't have to sublimate for a long time: a classmate at GITIS Yuri Aksyuta, who was 2 years younger than her, saw in little Tanya Golubyatnikova his great love. At the time of their meeting, he was an ordinary visitor from Estonia, living in a dormitory. "I was the youngest, he is the tallest," said the actress in an interview. – On the stage movement, we got up in height, and then we were told: "Stand in a circle." And Yura and I closed the ring. They got married in the second year. The whole theater was walking at our wedding. Although we came to the registry office, in a quarrel, without talking: we quarreled because he wanted to come in jeans and a vest, because it was impossible to find a decent suit for his height. Only when we drank champagne after the painting, softened and reconciled. Yura was not released from the rehearsal, and he went to rehearse in a wedding car. I followed him, waiting for him, walking around the theater in a wedding dress. Everyone told me, "Oh, Tanya, what are you rehearsing?" Nobody even realized that I was a real bride. "
She wanted fairy tales
For a long time, Tatiana Aksyuta was much more successful than her husband: she was filmed a lot, she earned decent money, practically supported her husband, herself and their daughter, but it was difficult for Yuri to find a job. "Our course was very unlucky," said Tatiana Aksyuta. – We all thought that we would stay at the Youth Theater after graduating from the institute. But our leader left for Yaroslavl. And only me was taken to the theater. And everyone else – who where. Yura served in the army and went on the radio. Many years later, the French came and said: "Let's create a music radio station" Europe Plus "in Moscow. Give us two young sensible guys. " Yura and another boy were DJs there at first, learning to control the consoles. "
And she was the leading actress of the Russian Academic Youth Theater. According to Tatiana Aksyuta in an interview, she has been dreamy since childhood, often hovering in the clouds, "inventing all sorts of ideas in her head" and never played catch-up, "did not like playing Cossack robbers, bouncers, towns." She wanted fairy tales. "I never had any ambitions to play Ophelia," says the actress. – I played in plays about love. Only he is a fox, and she is a chicken. So what? And the feelings are the same! I played Gerda in The Snow Queen for so many years that I won't scare you. I have three partners changed there. Already one Kai, my partner, started playing Storyteller, and I'm all Gerda. But there is also a love story. So you can talk about love to play, about feelings.
In 2017, Tatiana Aksyuta began teaching at the House of Creativity for children from 7 to 15 years. The leading actress of the Youth Theater changed her field of activity, retiring of her own free will, because she decided firmly: her age as a travesty actress is already too long, it's time and honor to know. "Otherwise, boys, girls and bunnies will look implausible," says the actress.
Her husband Yuri Aksyuta will grow from a simple DJ to the director of music broadcasting of the First Channel years later. Today, his name is known to all, he leads the projects "Voice", "Star Factory", "Golden Gramophone", etc. Unfortunately, the marriage of Tatiana and Yuri broke up. Yuri met another woman.
Tatiana Vladimirovna never spoke badly about her ex-husband. And she still looks like a schoolgirl. "I'm just starting to feel like a person with a middle name – and that's because the children call me Tatiana Vladimirovna. I will not say that I am an infantile person. But I still look at the world from there, from my childhood, "she says.